Sea Dance objavio kompletan program i novu pozornicu!
Written by Ultra on 13/08/2021
Sea Dance festival je objavio kompletan program za ovogodišnje, sedmo izdanje, koje će biti održano za nešto manje od dvije nedjelje i trajati će četiri dana, od 26. do 29. kolovoza! Velikim svjetskim i regionalnim zvijezdama poput Borisa Brejche, Maceo Plexa, Tale of Us, Meduze, Satorija, Bajage i Instruktora, Senide, Vojka V, Who See, Foxa i Surreala, Sajsi MC i z++, pridružuje se postava Play Radio Stagea powered by Guarana, u kojoj su čak 23 DJ-a iz Crne Gore, čime festival daje podršku lokalnim izvođačima! Na predivnoj budvanskoj plaži Buljarica ove godine će biti smještena i omiljena nečujna bina Silent Disco.
Na Play Radio Stage powered by Guarana stižu u najvećem broju lokalni, crnogorski DJ-evi. Tu su Baćko, Bodzie, Buba b2b Lerr, Divolly & Markward, GileRz, Just Ćoske, Kingja, John-K, Lazar (radio Zunzar), Luka Tarle, Marko Milanović, Millok, Mirko & Meex, Mr Lekka, Nessuno, Nigel, Oak Brothers, Prodžekt Sataraš, Rudhaman, Shar, Stanco b2b CHBX, Toxido, Vandal Steve, Vlado Milanović.
Na Silent Disco, bini koja nikada ne izlazi iz mode, muziku će puštati DJ Dirty, DJ Milan Kovačević, DJ Babylon fish i DJ One for All.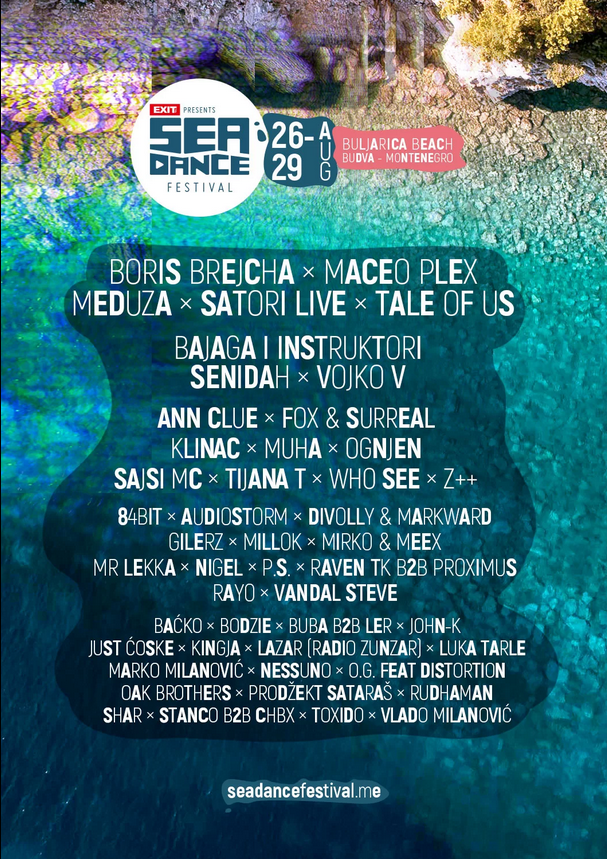 Na otvaranju Sea Dance festivala, u četvrtak 26. kolovoza, na Visa Dance Paradise powered by TO Budva nastupiti će Meduza, Satori, Bajaga i instruktori, Rudhaman, Rayo, a pridružuje im se bend Parampaščad, alternativni spuški rock sastav koji je nedavno izbacio novi album "Na putu ka suncu", a Buljaricom će odzvanjati jedna od omiljenih pjesama "Komadi". Drugog dana festivala, u petak 27. kolovoza, stižu Maceo Plex, Senidah, Vojko V, Tijana T, Muha i lokalci Raven TK u b2b setu sa Proximusom, kao i Radio Katakomba, dok su za treći dan, subotu 28. kolovozanajavljeni Tale Of Us, Fox & Surreal, Klinac, Ognjen i domaćini Audiostorm, P.S. i O.G. feat Distortion. Posljednjeg festivalskog dana, u nedjelju 29. kolovoza, posjetioci će imati priliku da čuju Borisa Brejchu, Ann Clue, Sajsi MC, Who See, z++ i 84Bit.
Sigurnosni protokoli kao i na Exitu
Jedan od ključnih uvjeta za održavanje festivala je pridržavanje sigurnosnih protokola za organizaciju masovnih događaja, koje je EXIT festival primijenio u Novom Sadu, ali prilagođenih uvjetima u Crnoj Gori. Na festival će moći da uđu posjetioci koji ispunjavaju jedan od četiri uvjeta iz Nacionalne COVID potvrde: dokaz da je osoba u cijelosti vakcinirana ili da je dobila makar prvu dozu vakcine, ili negativan PRC test ne stariji od 72 sata, ili pozitivan nalaz PCR testa stariji od 14, a ne stariji od 180 dana (što je dokaz da je posjetilac preležao Kovid-19), ili negativan brzi antigenski test BAT, ne stariji od 48 sati.
---