MOONDANCE FESTIVAL 2021 Ltd objavio headlinere!
Written by Ultra on 06/04/2021
Osim dvije glavne večeri 30. i 31.7. u trogirskoj kuli Kamerlengo, ekipa iza Moondance Festivala  pripremila  je Warm Up Party, Pirate Boat Party i službeni After Party. 
Moondance i Berlin,  glavni grad techna, odavno se javno vole. Suradnja s najznačajnijom institucijom techna – Tresor klubom, započela je još 2016. kada je ekipa Moondance Festivala organizirala prvo Tresor gostovanje u Hrvatskoj povodom 25 godina kluba. Sljedeća godina donijela je Tresor na Moondance što traje do danas. Ovogodišnje izdanje donosi čak 5 berlinskih headlinera od kojih 3 predstavljaju boje Tresora.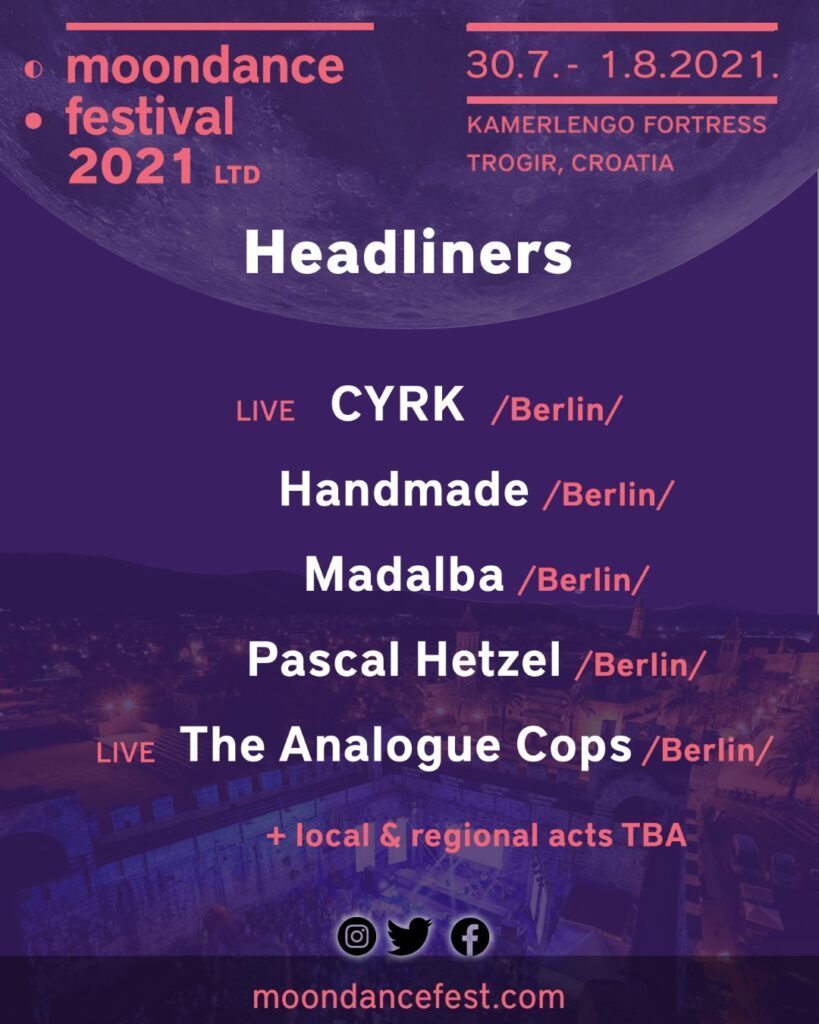 CYRK projekt iza kojega stoje Sammy Goossens i Pascal Hetzel je po mnogim relevantnim magazinima, odličnim izdanjima na prestižnim etiketama kao i van serijskim live nastupima, jedan od  trenutno najzanimljivijih electro / techno dua, ne samo iz Berlina nego i puno šire. Svojim  electro i broken techno izdanjima pomiču granice preporođenog žanra na čijem samom vrhu trenutno stoje. Ovo je njihov premijerni nastup u Hrvatskoj i regiji. 
HANDMADE je Tresor dj još od 2009. te je rezidentni dj još jedne kultne berlinske večeri – Same Bitches. Ovoga zaljubljenika u crnu plastiku kojoj je do danas ostao vjeran možemo bez ikakve sumnje staviti u rubriku The Art of DJing. Njegov jedinstven i sofisticiran pristup miksanju i spajanju različitosti u smislenu cjelinu nadaleko je prepoznat i nikoga ne ostavlja ravnodušnim. Pa tako ni Moondance publiku koja ga je već tri puta nagradila gromoglasnim odobravanjem.
MADALBA – po zanimanju kirurginja na traumi nije ništa manje precizna kad je u pitanju spajanje ploča za dj pultom. Njeni eklektični i istovremeno energični nastupi odavno su zapeli za oko i uho kako kritičarima tako i publici, što joj je omogućilo rezidenciju u Tresoru i nebrojene nastupe na underground techno događajima. Iako je bila planirana i za prijašnja Moondance izdanja, zbog spleta okolnosti ovo će biti njen premijerni nastup na Moondanceu. 
PASCAL HETZEL – još od preseljenja 2013. u Berlin, ovaj je dj, producent i live izvođač stalno prisutan na berlinskoj techno sceni. Nakon uspjeha prvih izdanja, Pascal se posvetio skupljanju mašina i usavršavanju rada na njima secirajući ih do najsitnijih detalja. Inspiriran klasičnim  techno i electro zvukom zajedno s usvojenim vještinama upravljanja mašinama, Pascal stvara svoj karakteristični zvuk koji izdaje na etiketama poput Caduceus Records, Expansion Unit, Constant Variables i Eye Teeth. Nedugo zatim udružuje se sa  Sammyjem Goossensom i tako nastaje CYRK. Pascalov dj nastup je prožet old skool elementima zakukuljenim u moderno ruho. 
THE ANALOGUE COPS – od njihovog prvog nastupa na Moondanceu odmah je bilo jasno da je to ljubav na prvi pogled (ili bolje rečeno takt).  Marieu i Lucretio, Talijani s berlinskom adresom su analogni policajci u potrazi za savršenim analognim zvukom. Ovi Tresor rezidenti nikoga ne ostavljaju ravnodušnim. Njihov sirovi zvuk mašina oslonjen na originalni techno zvuk u kombinaciji s energijom koju zrače na svojim nastupima jednostavno obara s nogu i najtvrdokornije skeptike.  Pri slaganju line upa, prirodno se nametnulo pitanje: " Kakav bi to Moondance bio bez analognih policajaca?"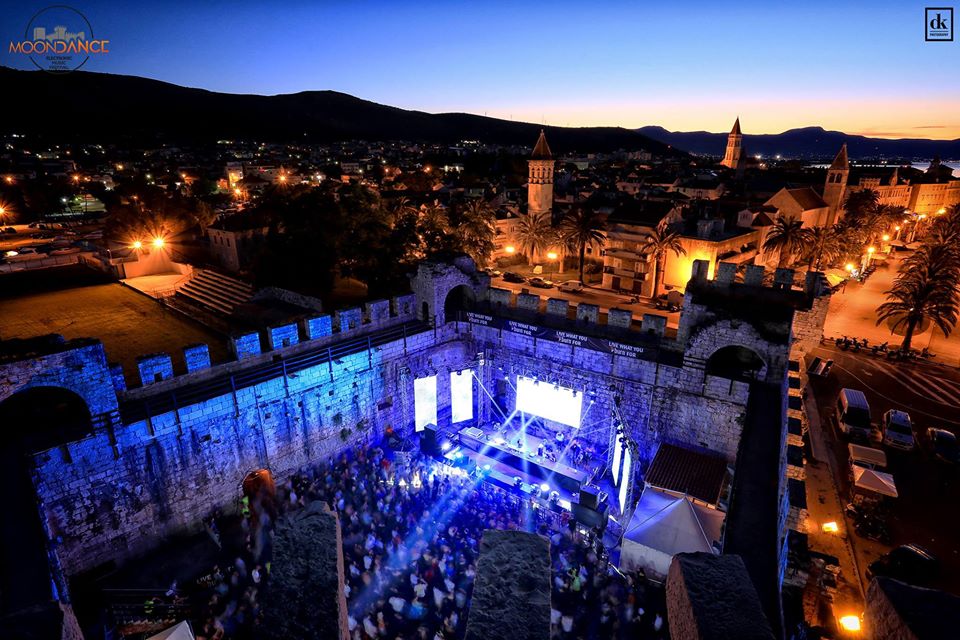 Inače, Moondance je jedan od rijetkih europskih događaja koji je  dobio dozvolu za održavanje 2020. kad je, uz pridržavanje svih epidemioloških mjera, Festival u reduciranom obliku uspješno održan. Optimisti smo da će prilike dopustiti najmanje ponavljanje prošlogodišnje izdanja.
Za sve informacije pratite objave na stranici www.moondancefest.com i FB pageu www.facebook.com/MoondanceFestival    
Ograničeni broj regionalnih ulaznica za posjetitelje iz regije s proljetnim popustom od 30% na Extreme Pass za svih 5 događaja potražite od 5.4. na: https://bit.ly/3minH6z
---